cloud computing maturity model (CCMM) definition
A cloud computing maturity model (CCMM) is a maturity grid for cloud service providers.
Today's Top 10 Most Important Cloud Storage Definitions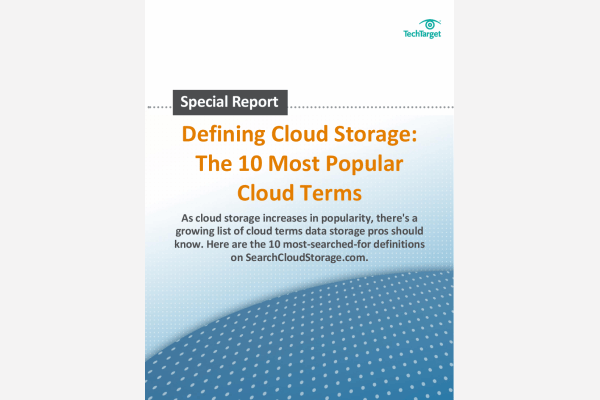 If you're an IT pro who will be advocating for cloud storage project funding, or if you just want to get a head start on understanding the technology, this guide of cloud storage definitions will help you gain a solid understanding of the fundamentals.
By submitting your email address, you agree to receive emails regarding relevant topic offers from TechTarget and its partners. You can withdraw your consent at any time. Contact TechTarget at 275 Grove Street, Newton, MA.
You also agree that your personal information may be transferred and processed in the United States, and that you have read and agree to the Terms of Use and the Privacy Policy.

A CCMM, like all maturity models, is a matrix laid out in rows and columns. The criteria to be evaluated is listed in the left-hand column and each column's corresponding row has cells that describe, in a few words, the typical behavior exhibited at each level of development -- beginning with entry level. Typically, a model will have no more than five levels, with level five being the most mature professional level.
The maturity model, once completed, provides the cloud service provider with a high-level view of how close they are to being fully developed in regards to specific criteria. For example, the CCMM might show that although the organization has the ability to load balance traffic and can accommodate spikes in demand, they still need to improve their self-service user interface and provider customers with a better way to interconnect with other cloud computing environments.
As with all maturity models, a cloud computing maturity model can be a useful tool for focusing discussions and creating a roadmap for next steps.
See also: Capability Maturity Model (CMM), Common Assurance Maturity Model (CAMM)
Dig Deeper on Cloud Storage Management and Standards
PRO+
Content
Find more PRO+ content and other member only offers, here.