ODCA (Open Data Center Alliance) definition
The Open Data Center Alliance (ODCA) is an independent information technology (IT) consortium whose goal is to develop a unified vision of cloud requirements.
Today's Top 10 Most Important Cloud Storage Definitions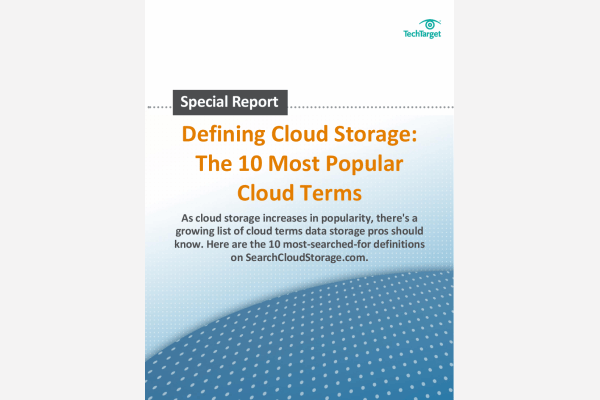 If you're an IT pro who will be advocating for cloud storage project funding, or if you just want to get a head start on understanding the technology, this guide of cloud storage definitions will help you gain a solid understanding of the fundamentals.
By submitting your email address, you agree to receive emails regarding relevant topic offers from TechTarget and its partners. You can withdraw your consent at any time. Contact TechTarget at 275 Grove Street, Newton, MA.
You also agree that your personal information may be transferred and processed in the United States, and that you have read and agree to the Terms of Use and the Privacy Policy.

Formed in 2010, the ODCA is led by a steering committee of senior IT executives from BMW, Capgemini, China Unicom, Lockheed Martin, Marriott International, NTT Corp., National Australia Bank, Terramark, T-Systems International, The Walt Disney Company and UBS. The ODCA has more than 320 member companies. Intel Corp. acts as the group's technical advisor.
In June 2011, the ODCA published eight Open Data Center Usage Models to provide enterprises with the information they need to begin moving IT operations to the cloud. The usage models describe the challenges and requirements for cloud deployment in four categories: secure cloud federation, cloud infrastructure automation, common management and transparent cloud service delivery. Since then, the ODCA has enhanced the existing models and published new ones, such as the Compute Infrastructure as a Service (IaaS) Master Usage Model, the Software Defined Networking (SDN) Master Usage Model and the Scale-Out Storage Master Usage Model.
Continue Reading About ODCA (Open Data Center Alliance)
Dig Deeper on Cloud Storage Management and Standards
PRO+
Content
Find more PRO+ content and other member only offers, here.