Essential Guide
Guide to SOA and the cloud
A comprehensive collection of articles, videos and more, hand-picked by our editors
RESTful API
A RESTful application programming interface (API) is a method of allowing communication between a Web-based client and server that employs representational state transfer (REST) constraints.
FROM THE ESSENTIAL GUIDE:
A RESTful API is an application program interface (API) that uses HTTP requests to GET, PUT, POST and DELETE data.
What's in Your Cloud?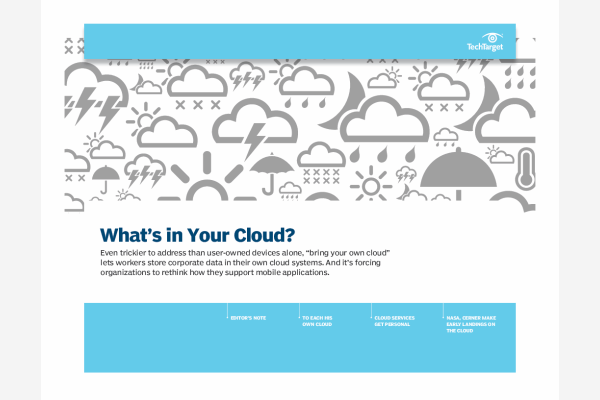 Keeping up with all those user owned devices—and devising policies to govern them and keep company data secure—can throw organizations for a loop. How has your company been handling the new trend?
By submitting your personal information, you agree to receive emails regarding relevant products and special offers from TechTarget and its partners. You also agree that your personal information may be transferred and processed in the United States, and that you have read and agree to the Terms of Use and the Privacy Policy.

Representational state transfer (REST), which is used by browsers, can be thought of as the language of the Internet. Now that cloud usage is on the rise, various application programming interfaces (APIs) are emerging to expose Web services and REST is a logical choice for building APIs that allow end users to connect and interact with cloud services. RESTful APIs are used by many sites, including Google, Amazon, Twitter and LinkedIn.
A RESTful API breaks down a transaction to create a series of small modules, each of which addresses a particular underlying part of the transaction. This modularity provides developers with a lot of flexibility but can also be challenging for developers to design from scratch. Currently, the models provided by Amazon Simple Storage Service (S3), OpenStack Swift and Cloud Data Management Interface (CDMI) are most popular.
RESTful APIs explicitly take advantage of HTTP methodologies defined by the RFC 2616 protocol. They simply use "PUT" to change the state of or update a resource, which can be an object, file or block; "GET" to retrieve a resource; POST" to create that resource; and "DELETE" to remove it.
Continue Reading About RESTful API
PRO+
Content
Find more PRO+ content and other member only offers, here.