XFS file system definition
XFS is a 64-bit, highly scalable file system that was developed by Silicon Graphics Inc. (SGI) and first deployed in the Unix-based IRIX operating system (OS) in 1994.
Today's Top 10 Most Important Cloud Storage Definitions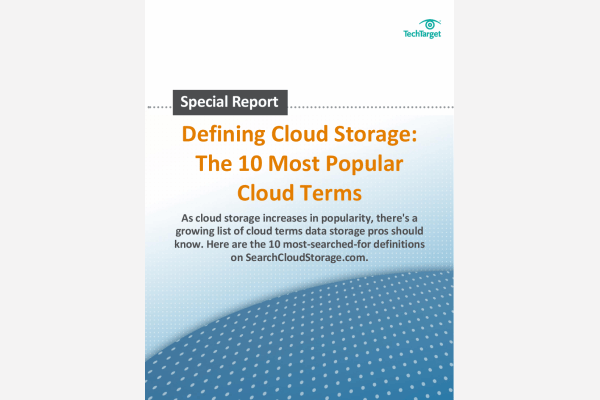 If you're an IT pro who will be advocating for cloud storage project funding, or if you just want to get a head start on understanding the technology, this guide of cloud storage definitions will help you gain a solid understanding of the fundamentals.
By submitting your email address, you agree to receive emails regarding relevant topic offers from TechTarget and its partners. You can withdraw your consent at any time. Contact TechTarget at 275 Grove Street, Newton, MA.
You also agree that your personal information may be transferred and processed in the United States, and that you have read and agree to the Terms of Use and the Privacy Policy.

SGI released XFS to the open source community in 1999. The community subsequently merged XFS into the kernel of the Linux OS, making the file system available as an option for Linux distributions. XFS supports large files and large file systems. For a 64-bit implementation, XFS can handle file systems of up to 18 exabytes, with a maximum file size of 9 exabytes. There is no limit on the number of files.
XFS is a journaling file system and, as such, keeps track of changes in a log before committing the changes to the main file system. The advantage is guaranteed consistency of the file system and expedited recovery in the event of power failures or system crashes.
Continue Reading About XFS file system
Dig Deeper on Cloud Storage Management and Standards
PRO+
Content
Find more PRO+ content and other member only offers, here.