cloud storage SLA definition
A cloud storage SLA is a service-level agreement between a cloud storage service provider and a customer that specifies details of the service, usually in quantifiable terms.
Free Download: 7 critical factors to consider when evaluating cloud storage options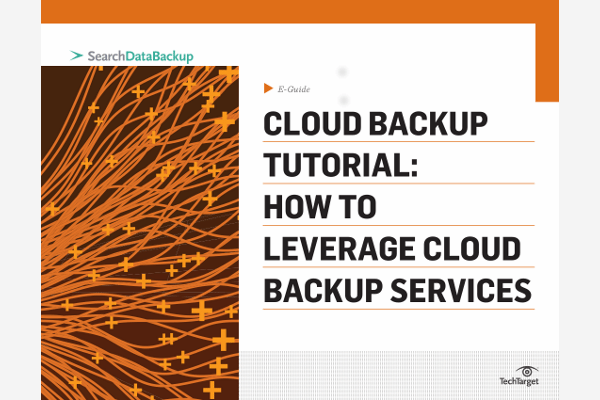 This free e-guide takes a look at remote backups, focusing on the challenges and solutions available to address endpoint device backup. Download today and learn the approaches for backing up laptops that enable you to tailor your remote backup plan to your organization's specific needs.
By submitting your email address, you agree to receive emails regarding relevant topic offers from TechTarget and its partners. You can withdraw your consent at any time. Contact TechTarget at 275 Grove Street, Newton, MA.
You also agree that your personal information may be transferred and processed in the United States, and that you have read and agree to the Terms of Use and the Privacy Policy.

A typical cloud storage SLA articulates precise levels of service – such as, for example, 99.9% uptime – and the recourse or compensation that the user is entitled to should the provider fail to provide the service as described. Another normal cloud storage SLA detail is service availability, which specifies the maximum amount of time a read request can take, how many retries are allowed and so on. The SLA should also define compensation for users if the specifications aren't met. Cloud storage service providers usually offer a tiered service credit plan that gives users credits based on the discrepancy between SLA specifications and the actual service levels delivered.
Most public cloud storage services provide details of the service levels that users can expect on their websites and these will likely be the same for all users. However, an enterprise establishing service with a private cloud storage provider may be able to negotiate a more customized deal. In this case an SLA might include specifications for retention policies, the number of copies that will be retained, storage locations and so on.
It's important to read an SLA closely and examine the ramifications. For example, 99.9% uptime, a common stipulation, translates to nine hours of outage per year. For some mission critical data, that may not be adequate. You should also check to see how terms are defined. Terri McLure, a senior analyst at Enterprise Strategy Group in Milford, Mass., explains: "I know of one vendor SLA, for example, that offers 99.9% uptime. It sounds pretty good. But they don't count downtime unless the client can't access applications for more than 10 minutes. A nine-minute outage is not considered downtime for them in their SLA."
See also: high availability, five nines, online backup, storage service provider (SSP)
Continue Reading About cloud storage SLA
Dig Deeper on Cloud Storage Management and Standards
PRO+
Content
Find more PRO+ content and other member only offers, here.