Definition
cloud storage gateway
A cloud storage gateway is a hardware- or software-based appliance located on the customer premises that serves as a bridge between local applications and remote cloud-based storage.

Download this free guide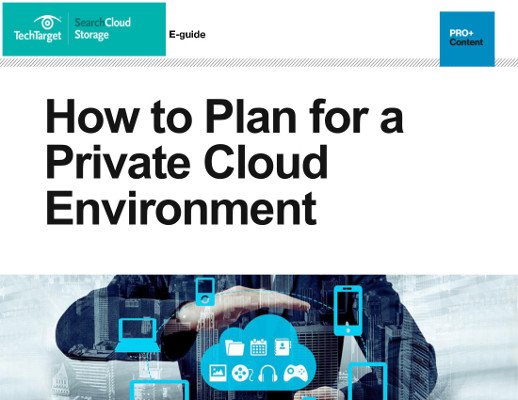 Planning is Paramount for a Private Cloud Environment
Are you getting ready for the move to a cloud environment? Or maybe you're still trying to figure out which is better for your business, to go private or adopt a public cloud? Either way this handbook is for you. Inside you'll find out why a private cloud is the way to go, as well as tactics and strategies on how to get you there. From VM deployment platform options, to what you can expect from DRaaS services, you'll find it all inside.
By submitting your personal information, you agree that TechTarget and its partners may contact you regarding relevant content, products and special offers.
You also agree that your personal information may be transferred and processed in the United States, and that you have read and agree to the Terms of Use and the Privacy Policy.
A cloud storage gateway provides basic protocol translation and simple connectivity to allow the incompatible technologies to communicate transparently. The gateway can make cloud storage appear to be a NAS filer, a block storage array, a backup target or even an extension of the application itself.
The gateway may be a stand-alone computing device or a virtual machine (VM) image that provides basic protocol translation and connectivity that allows incompatible technologies to communicate transparently. The need for a bridge between cloud storage systems and enterprise applications arose because of an incompatibility between the protocols used for public cloud technologies and legacy storage systems. Most public cloud providers rely on Internet protocols, usually a RESTful API over HTTP, rather than conventional storage area network (SAN) or network-attached storage (NAS) protocols.
Many of today's cloud storage gateway products provide data deduplication and compression capabilities to make use of available bandwidth efficiently and move data as quickly as possible. Reducing the digital footprint also lowers cost, because cloud providers charge for over-the-wire transfers as well as for storage space. Other popular features include snapshots and version control, the ability to use local storage as a cache, automated tiered storageand encryption. As the market has evolved, some vendors have dropped the word "gateway" in favor of the word "controller" to emphasize the idea that their gateway products do more than just serve as a bridge.
See also: cloud storage, cloud storage API
Continue Reading About cloud storage gateway
Dig Deeper on Cloud Storage Management and Standards
PRO+
Content
Find more PRO+ content and other member only offers, here.