Cloud washing (also spelled cloudwashing) is the purposeful and sometimes deceptive attempt by a vendor to rebrand an old product or service by associating the buzzword "cloud" with it.
Today's Top 10 Most Important Cloud Storage Definitions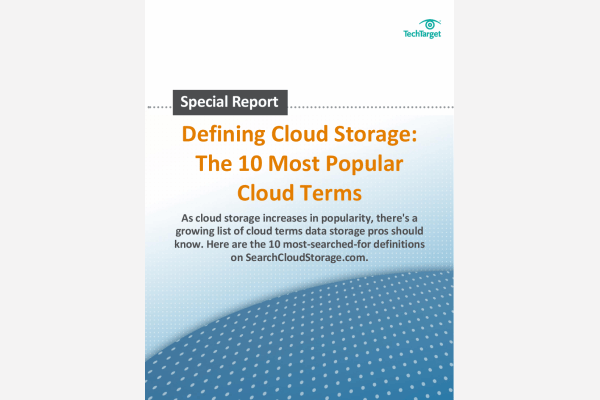 If you're an IT pro who will be advocating for cloud storage project funding, or if you just want to get a head start on understanding the technology, this guide of cloud storage definitions will help you gain a solid understanding of the fundamentals.
By submitting your email address, you agree to receive emails regarding relevant topic offers from TechTarget and its partners. You can withdraw your consent at any time. Contact TechTarget at 275 Grove Street, Newton, MA.
You also agree that your personal information may be transferred and processed in the United States, and that you have read and agree to the Terms of Use and the Privacy Policy.

Cloud computing is a general term that can be applied to any vendor service that involves delivery over the Internet. (The label "cloud" was inspired by the symbol for the Internet on a flow chart.) Therefore, if any component of the vendor's offering relies upon the Internet in order to work, the vendor can feel justified in associating the product with the label cloud. In addition to delivering an Internet-based service, however, a true cloud service also offers:
As the cloud computing delivery model becomes more popular and the uses for cloud services expand, so will the number of vendors hoping to present their offerings as having a cloud feature or function. Cloud washing has been compared to green washing, the rebranding of products and services as being friendly to the environment. In both instances, the word "wash" means to apply a thin layer of paint to freshen something up and make it look new. The paint, in this case, is a marketing message.
See also: green cloud
Continue Reading About cloud washing
PRO+
Content
Find more PRO+ content and other member only offers, here.