Green cloud is a buzzword that refers to the potential environmental benefits that information technology (IT) services delivered over the Internet can offer society. The term combines the words green -- meaning environmentally friendly -- and cloud, the traditional symbol for the Internet and the shortened name for a type of service delivery model known as cloud computing.
Today's Top 10 Most Important Cloud Storage Definitions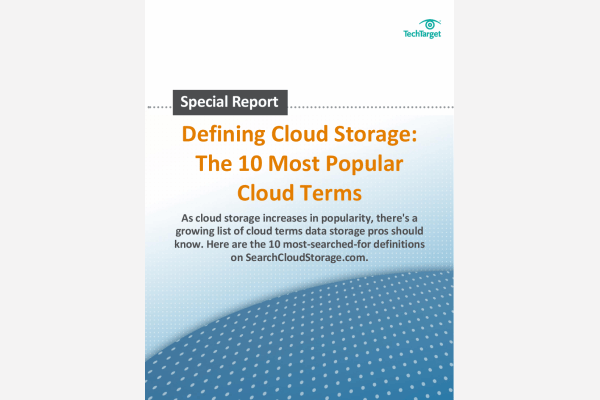 If you're an IT pro who will be advocating for cloud storage project funding, or if you just want to get a head start on understanding the technology, this guide of cloud storage definitions will help you gain a solid understanding of the fundamentals.
By submitting your email address, you agree to receive emails regarding relevant topic offers from TechTarget and its partners. You can withdraw your consent at any time. Contact TechTarget at 275 Grove Street, Newton, MA.
You also agree that your personal information may be transferred and processed in the United States, and that you have read and agree to the Terms of Use and the Privacy Policy.

According to market research conducted by Pike Research, the wide-spread adoption of cloud computing could lead to a potential 38% reduction in worldwide data center energy expenditures by 2020. The savings would be primarily achieved by consolidating data centers and maximizing power usage efficiency (PUE), improving recycling efforts, lowering carbon and gas emissions and minimizing water usage in cooling the remaining centers.
Because so much of a data center's energy expenditures support data storage, the Storage Networking Industry Association (SNIA) has promoted new technologies and architectures to help save energy. Advances in SAS drive technologies, automated data deduplication, storage virtualization and storage convergence reduce the amount of physical storage a data center requires, which helps decrease its carbon footprint and lower operating expenditures (OPEX) and capital expenditures (CAPEX).
Because the color green is also associated with paper money, the label green cloud is sometimes used to describe the cost-efficiency of a cloud computing initiative.
See also: green datacenter, green computing, Chief Green Officer, green collar, sustainability risk management
Continue Reading About green cloud
Dig Deeper on Public Cloud Storage
PRO+
Content
Find more PRO+ content and other member only offers, here.