Manage
Learn to apply best practices and optimize your operations.
Primary data storage options for the cloud
Cloud storage use cases are beginning to vary, and cloud is now considered a good primary data storage option. This Essential Guide shows effective implementations and best practices for storing valuable data in the cloud.
Introduction
Performance and security issues limited the cloud's usefulness for primary storage since the start, and not all of these problems have been resolved. Even though backup and archive are still go-to uses for the cloud, it doesn't mean the cloud can't be a primary data storage option.
Both cloud and storage vendors are evolving so that they are more tightly integrated and offer more features -- meaning they're a better option when it comes to near-line data. For example, the performance of object technology has been steadily improving with caching and workload prioritization features. On the other hand, cloud-integrated appliances can provide a level of performance similar to local storage while also providing the scalability of the cloud. But there are a number of options when it comes to primary data storage in the cloud, and making the right implementation choices is critical.
That's why we compiled this Essential Guide to help you determine whether cloud is a good option for your primary data storage. You'll find tips and advice from experts regarding how cloud storage is improving, what types of cloud storage are best suited for primary data, and best practices for implementation and management if you do decide to put your most important data in the cloud.
1

Planning

-
Determining whether the cloud is right for your primary data
For storage professionals who might still be wary of putting their primary data storage in the cloud, the following expert tips explain why it's becoming a more acceptable practice. Find out how cloud technologies have been evolving and which types of data are most appropriate to store there.
2

Implementation

-
Top implementations for primary data storage in the cloud
Cloud gateways, object technology and hybrid clouds are all options when it comes to primary data storage, but which one works best? It often comes down to how the data that is being stored there will be used. To help determine which cloud implementation is the most effective, the links below give an overview into how the different options work.

Download this free guide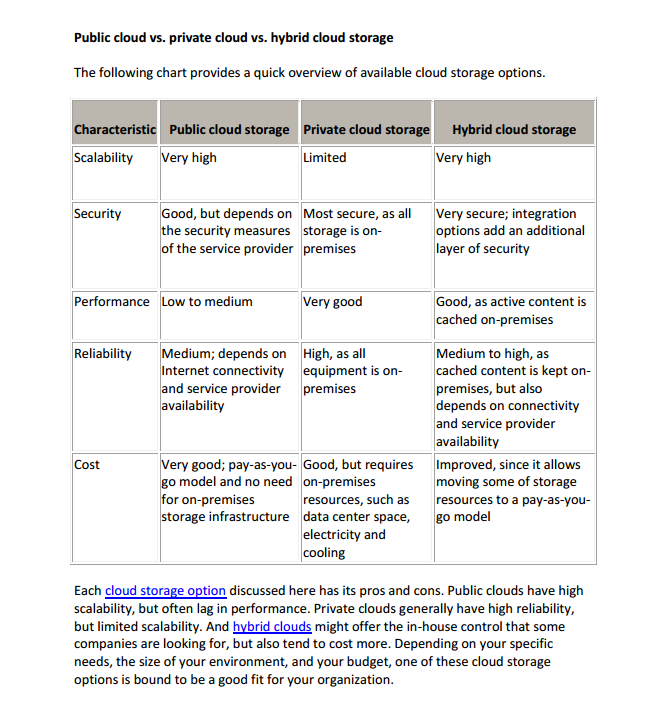 Cloud storage face-off: Public cloud vs. private cloud vs. hybrid cloud storage
Every cloud storage option has its pros and cons. Depending on your specific needs, the size of your environment, and your budget, it's essential to weigh all cloud and on-prem options. Download this comprehensive guide in which experts analyze and evaluate each cloud storage option available today so you can decide which cloud model – public, private, or hybrid – is right for you.
By submitting your personal information, you agree that TechTarget and its partners may contact you regarding relevant content, products and special offers.
You also agree that your personal information may be transferred and processed in the United States, and that you have read and agree to the Terms of Use and the Privacy Policy.
3

Best Practices

-
Keeping your primary data storage safe in the cloud
Storing primary data in the cloud means it's critical the data is secure and accessible. You should keep tabs on a cloud provider's service-level agreements, uptime and security. In addition, there are technology-specific best practices to keep in mind that help ensure security and reduce latency for your cloud primary data storage.