Evaluate
Weigh the pros and cons of technologies, products and projects you are considering.
Comparing the leading public cloud service providers
Amazon, Google and Microsoft may offer similar storage options, but each of these public cloud services has unique features that set it apart from its competitors.
Amazon, Microsoft and Google dominate the public cloud market when it comes to addressing an organization's budget, security requirements, and infrastructure and business needs.

Download this free guide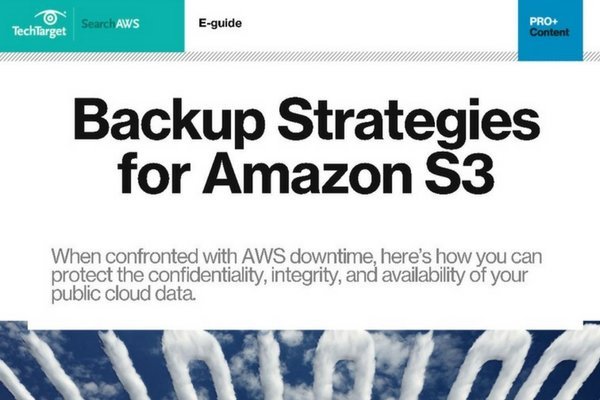 Amazon S3 in the spotlight: Your 34-page backup guide
In this guide curated by the SearchAWS.com editors, you'll evaluate and overcome the DR tradeoffs associated with Amazon S3, with guidance on solidifying an AWS backup plan and securing S3 buckets. Download your copy now.
By submitting your personal information, you agree that TechTarget and its partners may contact you regarding relevant content, products and special offers.
You also agree that your personal information may be transferred and processed in the United States, and that you have read and agree to the Terms of Use and the Privacy Policy.
Other niche and large public cloud service providers -- including IBM, Virtustream, Rackspace and NTT Communications -- provide beneficial services as well, but they don't have the same market share as the big three.
Although Amazon Simple Storage Service (S3), Google Cloud Storage and Microsoft Azure Storage offer similar storage features, there are a number of differentiating factors that companies should consider before selecting a service.
Pricing and cost
Amazon, Google and Microsoft are currently waging a storage pricing war. Each vendor follows the other when pricing adjustments are made, and they all have similar storage pricing models. To help an organization determine the cost of storage services, each vendor provides a calculator on its website. Pricing is generally determined based on the region in which the data is stored, the type of storage selected, the tier of storage and the total amount of storage.
Security and compliance
Google Cloud Storage provides encryption by default and enables customers to use their own encryption keys. Amazon does this, too, but it uses private data security company Vormetric Inc. to assist with key management. This gives Amazon impunity when it comes to the customer's encryption key, leaving the customer completely out of the process. Microsoft provides BitLocker for full disk encryption of data and uses a service called StorSimple to provide encryption for hybrid cloud implementations.
All three public cloud service providers have been certified as meeting multiple compliance regulations. Although all three offer many security services, Amazon Web Services (AWS) has the most built-in features native to its services. Both Google and Microsoft have security features that extend outside of storage, but AWS leads in this market.
Architecture
The three leading vendors share a similar architecture. They offer multiple types of storage (e.g., standard, archival, blob, object and so on) based on the necessary speed and the disk used. This also ties into the overall price, but these are considerations the organization needs to review when deciding which vendor to select.
Each of the three leading public cloud service providers has its own version of archival storage. For example, Amazon's Glacier allows a cheaper disk to be used to store data that users don't access frequently. Microsoft's archival service, Azure Cool Blob, provides hot and cool blob storage. Google offers Nearline and Coldline archival services for data that is infrequently accessed. The cost of this service, which is normally almost half the price of normal, or "hot," storage, is based on factors such as the region in which the data is stored, how long the data has been archived and how users access the data (via PUT, COPY, POST or GET requests).
An organization must also know if it will use storage gateways to transfer data within some type of hybrid architecture or if it will require a local presence with cloud storage. Many customers want a local copy of their data or use some type of application that requires local storage for the app to function properly. Both Amazon and Microsoft provide gateway offerings, and Google has third-party vendors that assist with its cloud platform to accomplish this.
Manageability
All three vendors offer a similar method of storage orchestration or use a manual method to determine the amount of storage to be allocated. For example, Amazon offers its EC2 Container Service, Google provides its Container Engine and Microsoft offers the Azure Container Service. These services allow customers to use multiple orchestration tools, such as Puppet, to assist with the distribution of storage resources. If there are other tools your organization uses for this purpose, it would be wise to determine if the cloud storage service provider supports them.
All three public cloud service providers also enable customers to use Docker containers with their storage. This enables increased use of applications and the ability to use storage clustering to add functionality to the storage in use.
The APIs these three cloud offerings support enable organizations to deploy applications and services to the cloud. It is important that your organization determine which APIs each provider supports. Currently, Amazon S3 doesn't support the Simple Object Access Protocol and, in the future, may only support RESTful APIs. The other services support APIs that provide similar functionality, but the APIs Amazon uses let other offerings within its cloud ecosystem work together. This makes Amazon's offering slightly more robust.
Determining which of the public cloud storage providers will best meet your organization's needs isn't always easy because no two companies have the same needs. But the main thing an organization should consider when selecting a public cloud storage service provider is how its architecture will be used now and in the future. For sites that have multiple Microsoft products, it might make the most sense from a licensing standpoint to go with Azure because Microsoft gives its customers licensing for that product. If an organization runs other Amazon or Google services, it may be best to keep things consolidated to that vendor for the combined features and integration.
PRO+
Content
Find more PRO+ content and other member only offers, here.