jules - Fotolia
News
Stay informed about the latest enterprise technology news and product updates.
One-third of shops using cloud storage vendors, more buying in
Though one in three shops are using cloud storage, primarily for data protection, security is by far the biggest concern with cloud storage services.
Looking for something else?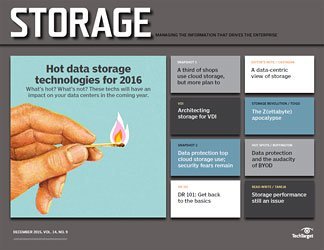 Download
Slowly, but surely, cloud storage vendors are scooping up organizations' data and tucking it away in the ether. Right now, our survey shows that nearly one-third (30%) of storage shops have recently purchased services from cloud storage vendors and almost half (48%) plan to add more or finally take the plunge and start using cloud storage.

Download this free guide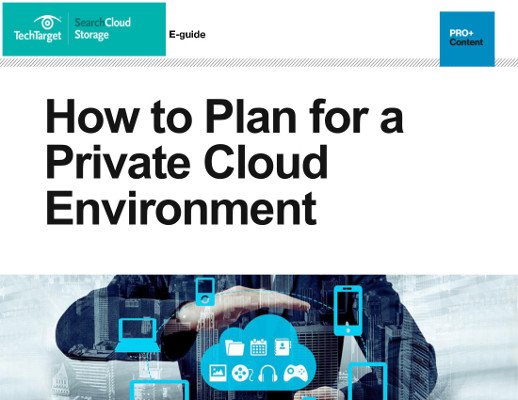 Planning is Paramount for a Private Cloud Environment
Are you getting ready for the move to a cloud environment? Or maybe you're still trying to figure out which is better for your business, to go private or adopt a public cloud? Either way this handbook is for you. Inside you'll find out why a private cloud is the way to go, as well as tactics and strategies on how to get you there. From VM deployment platform options, to what you can expect from DRaaS services, you'll find it all inside.
By submitting your personal information, you agree that TechTarget and its partners may contact you regarding relevant content, products and special offers.
You also agree that your personal information may be transferred and processed in the United States, and that you have read and agree to the Terms of Use and the Privacy Policy.
For most companies, commitment to using cloud storage vendors is still on the modest side, with more than half of service users currently storing 25 TB or less of data in their storage clouds. On the higher end, 6% of our survey takers reported that they have more than 100 TB of data in their storage clouds. Overall, the average amount of data that companies have sent to the cloud is 32 TB -- not a huge chunk of data perhaps, but it still represents about 22% of those users' total storage capacity.
Backup (62%) is still the primary app for those using cloud storage. Thirty-nine percent say they are using cloud storage vendors as part of their DR plan -- a fast-growing use case for cloud storage. Data archiving (35%), collaboration and file sharing (35%), and primary storage (31%) are all popular ways of using cloud storage services today.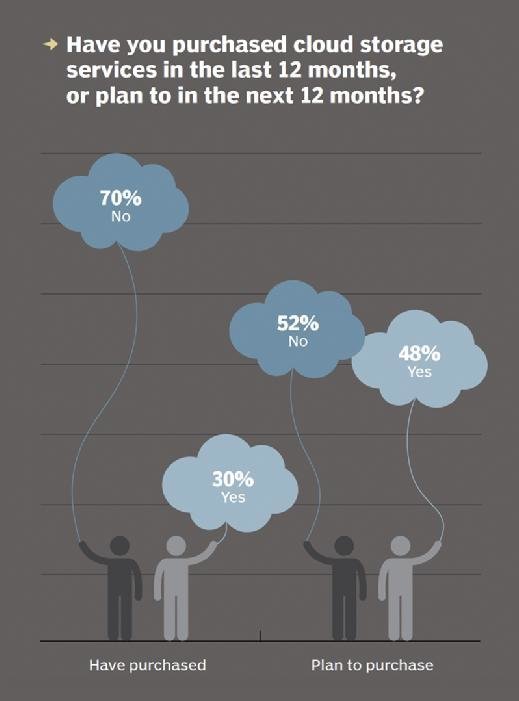 The concerns that have dogged cloud storage adoption for years haven't changed much. Number 1 on users' lists of concerns is security, with 54% saying that they still worry about how their data is handled and managed in the cloud. The next two biggest concerns are money related (surprise!) -- the cost of cloud storage capacity (33%) and network and transaction fees (25%). Interestingly, only 19% worry about bandwidth issues related to accessing their data and a mere 15% have anxieties about their cloud storage vendors' uptime.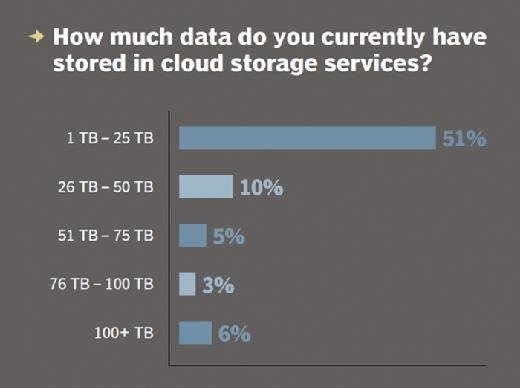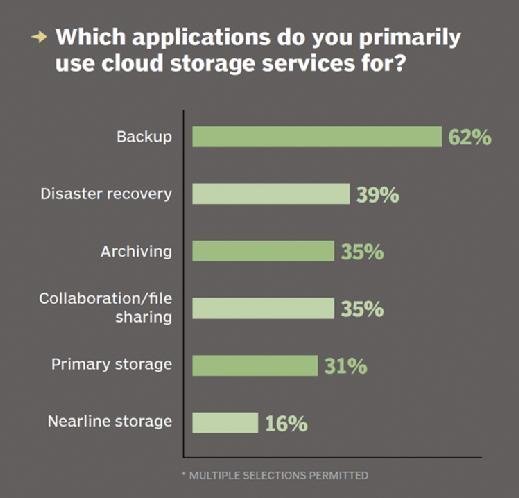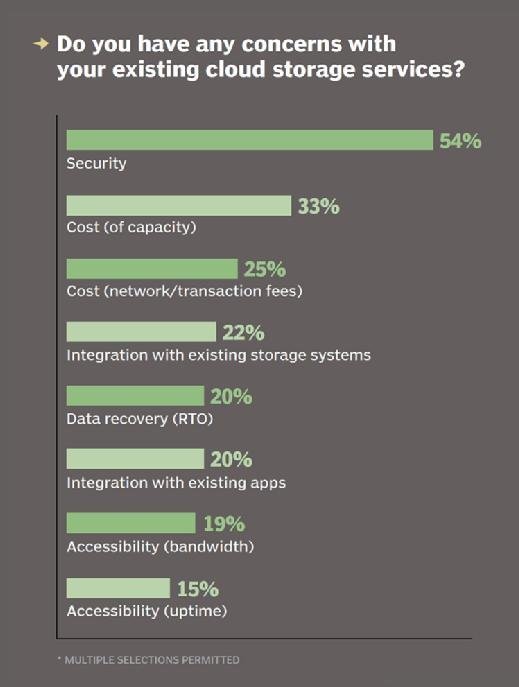 Dig Deeper on Cloud Storage Management and Standards
PRO+
Content
Find more PRO+ content and other member only offers, here.