What's keeping data storage out of the cloud?
Interest in cloud storage is picking up, but deterrents to cloud adoption include questions about data availability, security and the ability to satisfy regulatory requirements.
Looking for something else?
Despite all the talk about cloud storage, few organizations are storing corporate data in the cloud. According to SearchStorage.com's Storage Priorities for 2010 survey, only 4% of respondents are using the cloud for data storage.

Download this free guide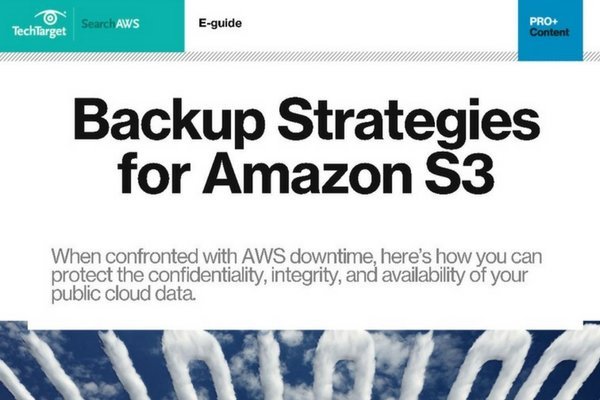 Amazon S3 in the spotlight: Your 34-page backup guide
In this guide curated by the SearchAWS.com editors, you'll evaluate and overcome the DR tradeoffs associated with Amazon S3, with guidance on solidifying an AWS backup plan and securing S3 buckets. Download your copy now.

By submitting your personal information, you agree that TechTarget and its partners may contact you regarding relevant content, products and special offers.

You also agree that your personal information may be transferred and processed in the United States, and that you have read and agree to the Terms of Use and the Privacy Policy.

But interest is picking up. Nine percent said they intend to leap into the cloud this year, while 27% will give it a careful look. So what will it take for cloud storage to catch on with these respondents and enough others to make the technology go mainstream? While there's no shortage of services and products to take organizations to the cloud, user concerns still overshadow the benefits. Questions about data availability, security and the ability to satisfy regulatory requirements have been the big deterrents to cloud adoption.

"There is a perception of risk," said Terri McClure, a senior analyst at Enterprise Strategy Group in Milford, Mass. "While cloud storage can save a company a lot on both capital and operational fronts, that does not make enough of a difference to get them to overlook these concerns."

Products are coming to market this year that may help alleviate some of these concerns. For instance, Cirtas Systems Inc.'s Bluejet Cloud Storage Controllers -- which are still in beta -- could serve as a SAN extension to make cloud services function as on-site arrays."User data is chunked up and compressed, then encrypted before it leaves the premises," McClure said of the Cirtas offering. "Between the chunking, compression and encryption algorithms, the data is pretty much useless unless users have a Cirtas box and the keys."

Some believe that low adoption can simply be attributed to lack of a clear concept of what cloud storage is, and how it differs from traditional storage in many cases.

"People just aren't sure where to use [the cloud], and as with any big hype trend, there is a lot of confusion surrounding it," said Greg Schulz, founder and senior analyst at Stillwater, Minn.-based StorageIO Group. "We saw the same thing with virtualization and on a more granular scale with iSCSI."

That means that even if storage managers don't fear the cloud, they approach it with caution. "Some [providers] are going to survive, some are going to emerge and many are going to shake out. And consequently there is this fear of who I'm going to go with," Schulz said. "Where it will really fit in is when people realize this cloud stuff is really just another tier."

Using the cloud as tier 2 storage

Sean Anderson, director of IT at the National September 11 Memorial and Museum, is already using the cloud as a storage tier. His organization uses a 10 TB EMC Corp. AX4 iSCSI SAN for primary storage, but Anderson wanted to store additional online copies of its digital media files for disaster recovery and a way to share those files with external consultants and the public.

The organization turned to the Nirvanix Inc. CloudNAS service for its tier 2 data. "In one pot, we're able to create an online backup, share it with our users and will then be able to use it at a later date as our online platform," Anderson said.

The museum keeps copies of its digital media files on its SAN, backup copies on tape stored with Iron Mountain, and stores additional copies in the cloud. Because the Nirvanix cloud holds one of three copies of data, reliability concerns weren't an issue; however, security was a concern.

"We had hesitation there because some of the content is donated and the donors usually have varying stipulations," Anderson said. "While there was some concern, given the approach that Nirvanix takes, I felt satisfied that we wouldn't have any embarrassing incidents."

For security, Nirvanix requires username, password and API key for a session token that allows data access. It also offers encryption, but the Sept. 11 Memorial group decided to forego encryption for now.

Anderson said it's important to remember that good data management practices are still required regardless of where you're storing data. "Putting your data in the cloud doesn't mean that you're not responsible for your data overall," Anderson said. "It's great that it's a big pool of storage that you can use, but all of the administrative best practices that you'd normally follow don't go out the window because you're using cloud storage."
Dig Deeper on Public Cloud Storage
PRO+
Content
Find more PRO+ content and other member only offers, here.