Pillar Axiom disk arrays support construction equipment company's private cloud
Citing flexible provisioning and quality of service (QoS), construction firm Simpson Strong-Tie uses Pillar Axiom disk arrays for private cloud environment.
Looking for something else?
TECHNOLOGIES
A construction equipment firm with a private cloud computing environment covering offices from California to Dubai chose Pillar Axiom disk arrays over storage systems from EMC Corp. because of Axiom's flexible provisioningand quality of service (QoS) features.

Download this free guide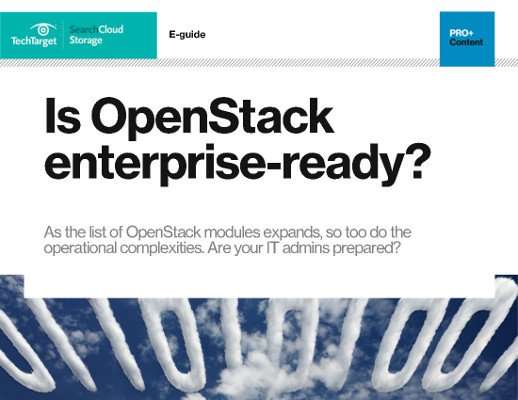 Is OpenStack Enterprise Ready?
Our editorial team makes a vendor-neutral attempt to tackle this topic, in addition to detailing OpenStack's modules, discussing what to expect from the latest Pike and (forthcoming) Queens releases, as well as providing four tips for building a Swift object store.

By submitting your personal information, you agree that TechTarget and its partners may contact you regarding relevant content, products and special offers.

You also agree that your personal information may be transferred and processed in the United States, and that you have read and agree to the Terms of Use and the Privacy Policy.

Eugene Alfaro, global IT operations manager, said Simpson Strong-Tie Company Inc. has been building a private cloud since before the term became popular over the last two years. Four years ago, Alfaro said, the company began putting together what today is known as a cloud using Citrix's virtual application product (now called XenApp).

"To me, cloud computing simply means putting computing power somewhere else," Alfaro said.

In the case of Simpson Strong-Tie, all of its compute power is located in two sets of redundant data centers in Pleasanton, Calif., and McKinney, Calif., and in Denmark and Germany. The European data centers service offices throughout Europe and the Middle East, while the California offices handle regional locations throughout North America. Redundant Pillar Axiom disk arrays in California hold approximately 20 mirrored TB in California, and about 10 TB in Europe.

All desktops and local servers are hardware- or software-based thin clients, and end users log in through edge devices to the XenApp server farm in one of the two data center locations. Alfaro defines it as a private cloud because it is not managed by a third-party service provider.

"In a cloud computing environment, it's of critical importance that the data center be stable," Alfaro said, adding that because the SAN supports Simpson's customized ERP system, "the storage system also has to be reliable or we can't run our business."

Previously, the company had been using mostly direct-attached storage (DAS) with Hewlett-Packard (HP) Co. servers, but began investigating networked storage to support the Citrix environment about two years ago.

Alfaro said he first looked at EMC storage systems, but also considered Pillar on a recommendation from his local VAR and another Pillar customer. He settled on Pillar because of its QoS features, which can be changed on the fly.

"When technology like SAN storage has been around so long, it's not uncommon that someone who makes a product from scratch can make it more efficient," Alfaro said. He said he is aware of the virtual provisioning features EMC has added in the last few years, but he likes the ability to change capacity and QoS on already-provisioned volumes using a simple GUI on the fly with Pillar. (EMC has also added automated tiered storage features to its disk arrays since Simpson Strong-Tie installed its Pillar SAN). From previous jobs, Alfaro said, he "knew the struggle of capacity planning in advance" and was intrigued by Pillar's message.

"We can move not just the data, but the network and computing resources [within the array] depending on our application needs," Alfaro said. He said his storage administrator, who also has experience with EMC and NetApp, has found the Pillar Axiom disk arrays easy to maintain and "he hasn't been to a single training class."

Alfaro is also evaluating Fusion-io and Pillar's solid-state drive (SSD) "brick" to ascertain the best place in the environment for solid-state storage. Right now, the Fusion-io PCIe cards are directly attached to servers running SQL, and Pillar's SSD brick is used to speed up the email environment.

Users: We need a larger online community and improved reporting

There was one tradeoff going with Pillar rather than one of the bigger vendors for data storage, Alfaro said. "The great thing about buying from a big vendor like Cisco, Microsoft or EMC is that you don't have to call support all the time — the community [of other users] is so broad in virtually every language," he said. "Pillar has to do a better job managing its relatively small community. There are multiple Yahoo! Groups, and I think they should step in and bring it down to one."

Pillar introduced a new online community at a customer meeting about a-month-and-a-half ago, Alfaro said, but "that community still has to grow."

Like other Pillar customers, Alfaro is calling for improved reporting features native to the Axiom GUI. Pillar offers some capacity planning and storage resource management (SRM) help through a professional services engagement called Pillar Pulse, but "I want to see native historical trending reporting as well as real-time through the Axiom Web GUI," he said.

Gokul Sathiacama, senior director of product marketing and management at Pillar, says historical trending reports will be part of the vendor's updated GUI later this year.
Dig Deeper on Private Cloud Storage
PRO+
Content
Find more PRO+ content and other member only offers, here.