News
Stay informed about the latest enterprise technology news and product updates.
Cleversafe Inc. enhances plans for big data storage, 10 exabyte cloud
Cleversafe's big data storage plans continue with a new object storage system it says can be used for an exabyte-scale cloud.
Looking for something else?
TECHNOLOGIES

PRODUCTS
Cleversafe Inc. today announced its 3000 series appliances, the next generation of its object storage systems the vendor claims can be used to build a 10 exabyte storage cloud with throughput of 1 TB per second.

Download this free guide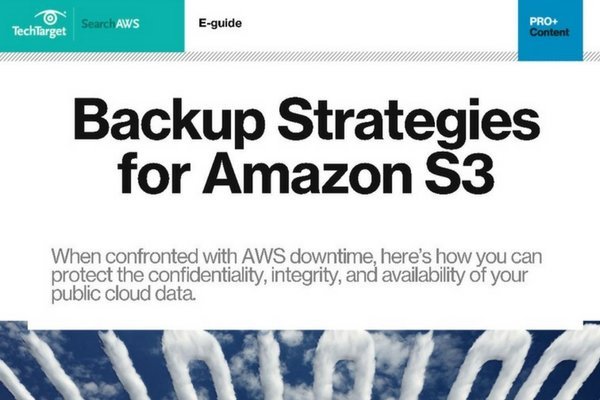 Amazon S3 in the spotlight: Your 34-page backup guide
In this guide curated by the SearchAWS.com editors, you'll evaluate and overcome the DR tradeoffs associated with Amazon S3, with guidance on solidifying an AWS backup plan and securing S3 buckets. Download your copy now.
By submitting your personal information, you agree that TechTarget and its partners may contact you regarding relevant content, products and special offers.
You also agree that your personal information may be transferred and processed in the United States, and that you have read and agree to the Terms of Use and the Privacy Policy.
The new devices consist of the Slicestor 3510 storage system, the Accesser 3100 router and the dsNet Manager 3100 management appliance.
The 3000 series is the architecture Cleversafe referred to last January when it promised a 10 exabyte storage system within a few years. Of course, the 10 exabyte mark remains theoretical because it's unlikely anyone will build a storage cloud close to that size in the near future.
It does, however, show that Cleversafe is serious about providing big data storage and storage for clouds. The vendor took a step down the big data storage path in July when it outlined plans to integrate its storage with Hadoop later this year.
"This isn't a general-purpose storage system that any enterprise is using. It's for those doing heavy-duty analysis of very large data sets," said Terri McClure, a senior analyst at Milford, Mass.-based Enterprise Strategy Group (ESG). "Cleversafe is really going after the big data market with data sets that exceed the normal processing capabilities." Cleversafe's customers include the federal government.
The dual-controller Slicestor 3510 5U storage appliance scales to 252 TB of raw capacity with 3 TB SAS drives. It has 32 GB of memory and two 10 Gigabit Ethernet (GbE) ports. Cleversafe plans support for 4 TB SAS drives when they become available, bringing maximum raw capacity to 336 TB.
The Accesser 3100 storage router is a 1U box that uses Intel Xeon Sandy Bridge chips with an internal 32 GB solid-state drive boot drive, 32 GB of ECC memory and two 10 GbE ports.
The dsNet Manager 3100 can manage up to 100 PBs per appliance. It does fault monitoring, reporting, provisioning and storage configuration.
We're building on our core that's around the dispersal of data and adding the ability to scale capacity to 10 exabytes, with the throughput to run analysis.

Russ Kennedy, Cleversafe's vice president of product strategy, marketing and customer solutions
The largest of Cleversafe's previous 2100 appliances scale to 135 TB in a 4U SATA drive configuration. The 2100 series doesn't support 10 GbE, but will remain on the market.
"We're just scaling up and adding more capacity. We're not getting rid of the older models. They're still shipping," said Russ Kennedy, Cleversafe's vice president of product strategy, marketing and customer solutions. "We're building on our core that's around the dispersal of data and adding the ability to scale capacity to 10 exabytes, with the throughput to run analysis. You don't have to run analysis on a separate infrastructure. You can run it directly on your storage system."
Cleversafe's 10 exabyte vision consists of a reference architecture that includes portable self-contained data centers dispersed across 16 sites; each site will hold 35 data centers for a total of 560 portable data centers. Kennedy said Cleversafe has built and tested portable data centers in eight sites, including Dallas, Denver, San Francisco and Tampa.
The 10 exabytes would be geographically dispersed via Cleversafe's object storage software that uses algorithms with encryption to slice and disperse objects across a network of nodes. If a site or node goes down, data can be rebuilt as long as the system has access to a pre-defined number of sliced objects.
Cleversafe is planning to allow Hadoop MapReduce computation to run directly on Slicestor by replacing the underlying Hadoop Distributed File System (HDFS) with the dispersed object storage while maintaining HDFS interface for the MapReduce process. Hadoop integration and availability of the 3100 series is planned by the end of the year.
ESG's McClure said no organization currently needs a 10 exabyte system because "we're still in the tens of petabytes stage. This is a discussion of what Cleversafe Inc. will be able to do," she said. "The ability to ingest and the expense of doing data analysis has been cost prohibitive, which is why many [users] are interested in Hadoop. The next barrier is scale and performance, and that's what Cleversafe is going after. They're not looking to solve mom-and-pop company problems."
Dig Deeper on Public Cloud Storage
PRO+
Content
Find more PRO+ content and other member only offers, here.