filograph - Fotolia
News
Stay informed about the latest enterprise technology news and product updates.
Panzura says cloud gateway appliance has no value, so now it's free
What's behind the decision of Panzura and Google to give away a cloud controller and 2 TB of cloud capacity?
Looking for something else?
Cloud storage prices have been dropping steadily for years as providers look to reel in customers, but now Panzura and Google are giving capacity away for free.

Download this free guide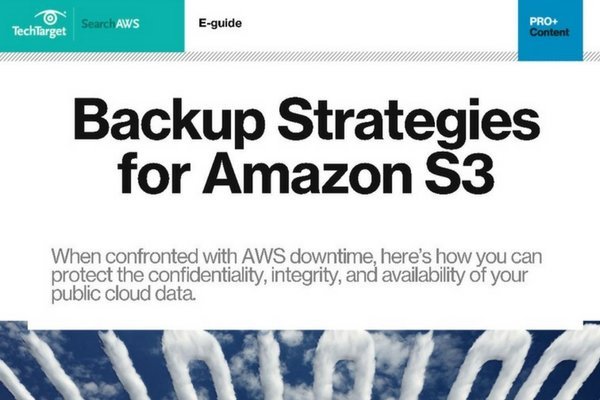 Amazon S3 in the spotlight: Your 34-page backup guide
In this guide curated by the SearchAWS.com editors, you'll evaluate and overcome the DR tradeoffs associated with Amazon S3, with guidance on solidifying an AWS backup plan and securing S3 buckets. Download your copy now.
By submitting your personal information, you agree that TechTarget and its partners may contact you regarding relevant content, products and special offers.
You also agree that your personal information may be transferred and processed in the United States, and that you have read and agree to the Terms of Use and the Privacy Policy.
Panzura this week said it will not charge for its virtual gateway appliance and has partnered with Google to offer 2 terabytes (TB) of storage on Google Cloud Storage free for 12 months with the gateway. As with the constant price decreases that Google, Amazon and Microsoft have implemented, this new plan is a way to hook customers. Google sees the free 2 TB expanding and turning into subscriptions, while Panzura considers the free gateway a way to induce customers to pay for its more feature-rich QuickSilver Cloud Storage Controller.
"A gateway is simply a protocol converter," said Barry Phillips, Panzura's chief marketing officer. "We don't believe it has any value. That is why we decided to commoditize that part of the market. Our free gateway can be used with any cloud provider, private or public, but the free storage is available with Google."
The gateway software appliance, which runs on VMware ESX, provides storage access for disaster recovery, backups and archiving.
Rich Webber, Panzura's chief strategy officer, said the QuickSilver controller has the advanced capability to do peer-to-peer communication between controllers in multiple locations. The controller includes file-locking and the ability to reduce latency for data travelling over the WAN -- features the gateway lacks. File-locking ensures that any file open in one location is locked in other locations to maintain data consistency.
Webber said Panzura is offering a free gateway because it's trying to distance itself from being called a cloud gateway provider, something Panzura and its competitors have been trying to do for years.
"The meaning of gateways is getting muddled," Webber said. "A gateway has a hub-and-spoke that is mounted in one location and writes to the cloud. It acts as a simple gateway inside a single data set and local cache. It won't do collaboration between sites in the same data sets."
"This announcement [has] made some people wonder if we had 'lost our minds' and were 'giving away the company,'" Phillips wrote in a blog on Panzura's website. "But once we explain that our customers primarily use Panzura for cross-site collaboration and not for cloud gateway functionality, they understand why we are giving away cloud gateways for free.
"Our hope with providing cloud gateways for free is to help people understand that the real value of cloud storage is acting as a collaborative fabric for cross-office collaboration and not as a cheap digital attic," he explained.
The free gateway license will be available on Aug. 25 as a download from Panzura's website.
Marc Staimer, president of Dragon Slayer Consulting, said the cloud gateway market has lost some steam from the time they first were introduced as on-ramps to the cloud. He said gateways need to become a tier within the storage system.
"That is the only way gateways will be successful," Staimer said. "They have to be local storage. Unless it is primary storage and the cloud is part of the primary storage as a tier, then gateways will fail because if you use a gateway, you have to get the data to the gateway. If it's not part of your primary data, then you have to migrate the data to the gateway."
EMC this week acquired Panzura rival TwinStrata with plans to incorporate the cloud as a tier on EMC VMAX enterprise SAN arrays. EMC will continue to sell TwinStrata CloudArrays but its main use for the technology will be to embed the software into the VMAX architecture that allows customers to move data between private and public clouds. The major goal is to provide a cloud tier within its high-end array platform.
Microsoft this week expanded the capacity of its StorSimple cloud gateways and integrated the appliances more tightly with its Windows Azure cloud. Microsoft acquired StorSimple in 2012.
Dig Deeper on Public Cloud Storage
PRO+
Content
Find more PRO+ content and other member only offers, here.