Exodus teams with StorageNetworks
Looking for something else?
Internet hosting and managed services provider, Exodus Communications, Inc., and storage services provider, StorageNetworks, Inc., have formed a strategic alliance under which the duo will provide scalable storage capacity and Internet hosting services to support PeopleSoft's mission-critical data.

Download this free guide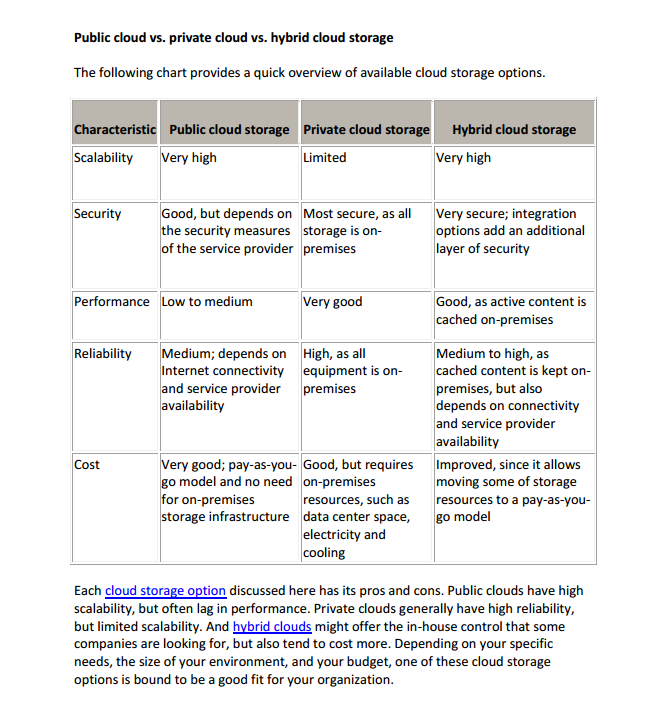 Cloud storage face-off: Public cloud vs. private cloud vs. hybrid cloud storage
Every cloud storage option has its pros and cons. Depending on your specific needs, the size of your environment, and your budget, it's essential to weigh all cloud and on-prem options. Download this comprehensive guide in which experts analyze and evaluate each cloud storage option available today so you can decide which cloud model – public, private, or hybrid – is right for you.
By submitting your personal information, you agree that TechTarget and its partners may contact you regarding relevant content, products and special offers.
You also agree that your personal information may be transferred and processed in the United States, and that you have read and agree to the Terms of Use and the Privacy Policy.
Santa Clara, Calif.-based Exodus will offer the Exodus Storage Services powered by StorageNetworks, Waltham, Mass., as a managed service to its customers, including StorageNetworks BackPACS, DataPACS, SafePACS, and NetPACS services. PACS (protection, availability, continuity, scalability and security) services offer primary data storage, tape backup and restore, along with high availability and business continuity solutions designed to help customers better manage their data storage assets.
"The benefit to customers of Exodus is that they can now choose from a suite of services that can alleviate the burden of managing a sophisticated, expensive and rapidly growing piece of their infrastructure," said William Hurley, program manager for the Boston, Mass., analyst firm, the Yankee Group. Additionally, said Hurley, if the SLAs (Service Level Agreements) offered by StorageNetworks meet the grade, customers may be able to reduce the amount of cage space consumed, thereby saving money, both on storage costs and co-location costs.
"For StorageNetworks, its a great foot in the door. The question is how far will Exodus go to "sell" StorageNetworks," Hurley said. "Exodus gets the benefit of another revenue stream from a value-added service that is only anticipated to grow over the next few years."
E-business provider, PeopleSoft, of Pleasanton, Calif., will use Exodus' hosting services, StorageNetworks BackPACS service for data backup and restore, and the DataPACS service for primary data storage. All of which will be put to use for the PeopleSoft eCenter, the company's application hosting service.
Exodus customers who choose StorageNetworks data storage service solutions can now access the StorageNetworks Global Data Storage Network (GDSN) by plugging into the StorageNetworks StoragePort Access Channel located in the Exodus Internet Data Centers (IDCs).
Dig Deeper on Public Cloud Storage
PRO+
Content
Find more PRO+ content and other member only offers, here.