Manage
Learn to apply best practices and optimize your operations.
What to expect in OpenStack releases Pike and Queens
OpenStack Pike, Queens and Rocky will include much-needed features and updates that will simplify user interfaces and improve the function of existing APIs.
Looking for something else?
TECHNOLOGIES

PRODUCTS
All the roadmap details for OpenStack are public, but it takes some digging to get a sense of what is to come.
For the next three generations, OpenStack releases will build on the Ocata release; there are no forklift upgrades, though some of the changes will have wide-spread repercussions.

Download this free guide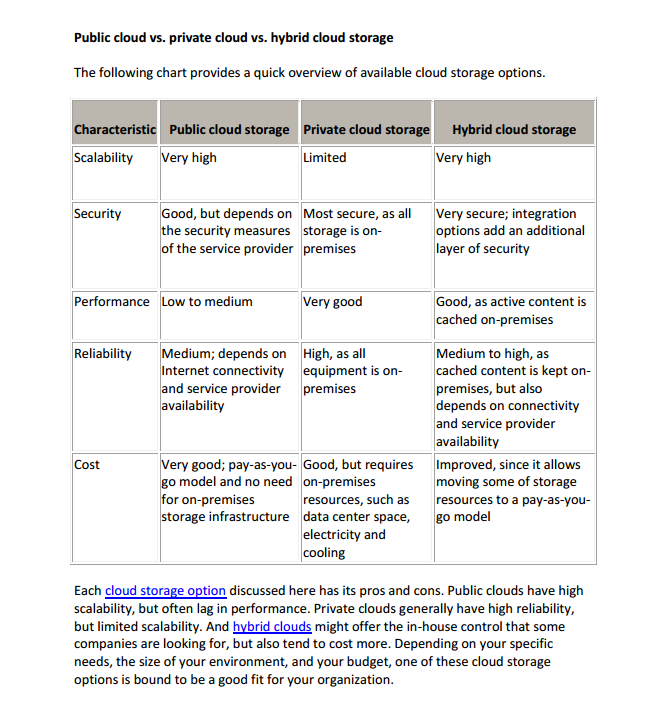 Cloud storage face-off: Public cloud vs. private cloud vs. hybrid cloud storage
Every cloud storage option has its pros and cons. Depending on your specific needs, the size of your environment, and your budget, it's essential to weigh all cloud and on-prem options. Download this comprehensive guide in which experts analyze and evaluate each cloud storage option available today so you can decide which cloud model – public, private, or hybrid – is right for you.
By submitting your personal information, you agree that TechTarget and its partners may contact you regarding relevant content, products and special offers.
You also agree that your personal information may be transferred and processed in the United States, and that you have read and agree to the Terms of Use and the Privacy Policy.
OpenStack is a complex open source project. It moves forward with a set of scheduled major releases which are labelled alphabetically. In 2017, users can expect the Pike release, followed by Queens and Rocky in 2018. Because the team follows a somewhat rigid release schedule, not all projects include new features in any given release.
A number of problems had surfaced by the Mitaka release, and issues such as very slow network deployment held back the transition from sandboxes to production across the user base. Newton and Ocata cleaned up many of these issues, and one result was the understanding that ease of use needed improvement, both in user interfaces and APIs.
The focus now is on improving the user interfaces and APIs for modules, and extending manageability in most of the project areas over the next three OpenStack releases. These are both crucial efforts to allow scale-out deployment and move OpenStack into mainstream acceptance.
There is a concerted effort to add containers to OpenStack, and it will support all the main container models, including Docker and Kubernetes. This is a must-have feature given the huge interest the industry is showing in containers, as well as the fact that the major public cloud service providers are all close to complete offerings. We are already well along in architecture, though the currently released code is still maturing.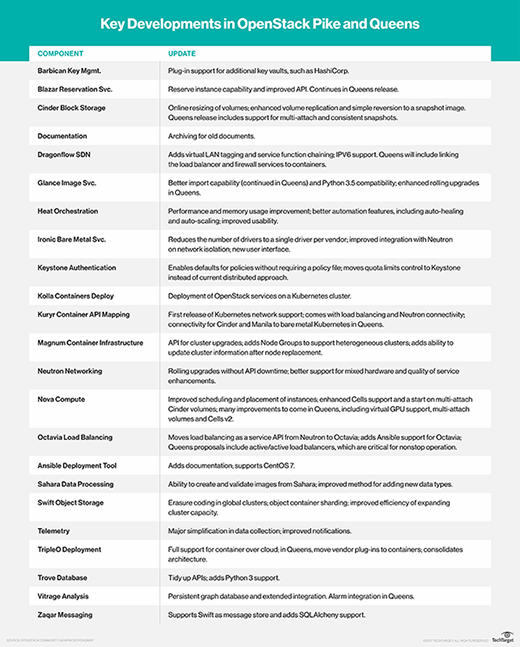 Overall, with the exception of containers and some major new storage features, this is a fairly bland list. Even so, OpenStack is a patchwork of somewhat connected modules, and these coming OpenStack releases are aimed at consolidating it and tidying up many elements that need to be realigned for better operation.
This makes the PQR release sequence very important because, at the end of the cycle, we will see a much more integrated and mature product. It will then be ready for production deployment at scale and will serve as a good base for the next generation of major features.
Pike is scheduled for an Aug. 30, 2017 release. Dates for Queens and Rocky aren't yet official, but should be at the end of February and August 2018, respectively.
The schedule for OpenStack releases isn't a treadmill, however. For example, Red Hat offers three-year support for each release, which gives users enough time to get familiar with each release.
Dig Deeper on Hybrid Cloud Storage
PRO+
Content
Find more PRO+ content and other member only offers, here.